This morning over coffee and tea mom and I tallied up the votes for the shoe challenge-
For me- 1st place was my baby pink patent Givenchy pumps and coming in 2nd place was my mustard yellow patent Dries van Noten sneaker wedges.
and for mom-1st place was her black studded Burberry platforms and in 2nd place was her canvas and leather Bruno Frisoni booties.
this post is a little rushed because we are without water due to a plumbing mishap and the power is flickering on and off...
But we're going to jump right into the challenge and show you how we're wearing our challenge shoes for a quick outing of lunch and errands.
My mom is wearing her Burberry platforms with her Hysteric Glamour jeans and Miss Sixty tee.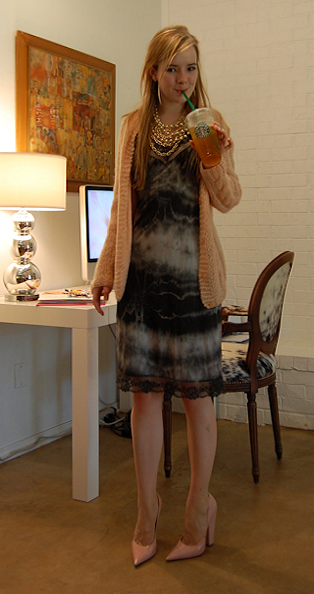 and today I am wearing my Givenchy pumps with a tie dye slip dress I got at Urban Outfitters, a handknit vintage mohair sweater I got at a thrift store, and chunky gold chains. Gotta include a close up of these shoes-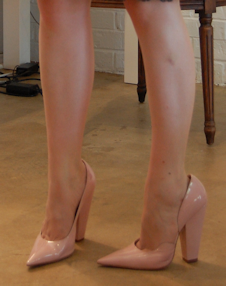 (sweet bruise, Jane!) These shoes are not the most comfortable shoes...to put it mildly, they kill. (this means a lot coming from me, I have an extremely high pain threshold when it comes to fabulous shoes)Hence why they haven't gotten much wear-but they are one of my most prized posessions-I've started to get used to walking in them since wearing them today.

Will update you guys again tomorrow! Thank you so much to the readers who participated it means a lot-you guys make it a lot of fun for me and my mom! :)
jane